Book us For Your Next Event!
Ready to get more information about booking Shout! as entertainment for your next festival, fair, or other special occasion?
Fill out this form with as much information as you have and we will get back to you as soon as we can!
We look forward to entertaining your guests with a time travel experience like no other!
Michigan's #1 Beatles Tribute Band
What People Say About The Show
I saw you guys at the Dream Cruise in August. You guys were great, what fun! Maybe I can catch you again next summer.
The Whole Family from 15 to 60 is very excited and looking forward to seeing you perform in St. Mary's Park in Monroe, MI.
Saw you guys in Pemberville, Ohio and I must say I was very impressed!!! YOU ROCKED, and were even wonderful after the show staying around to talk to fans.
Just saw you at the Pemberville Fair. I loved it. It was awsome. LOVED it !:)
Love you guys! So good and so fun! I look forward to seeing you every year at the Birmingham Festival and now I hope to see you more than once a year!
I saw you guys last night at the park and always enjoy your interaction with the community. Great way to keep great music alive!
Don't Miss Our Upcoming Events!
SHOUT! in West Branch, MI
West Branch Music in the Park welcome SHOUT! to their Summer Music Series season. The Fab Four tribute show begins at 7:00pm at the pavilion in Irons Park along the beautiful west branch of the Rifle River. Bring your chairs, beverages and dancing shoes because we will have a great time together. For more information, visit West Branch Music in the Park, 2020 and Beyond on Facebook, email dawnbudge62@gmail.com or call 989-345-4478.
SHOUT! will light up the summer skies surrounding the Clio Amphitheater this July 26th with the unmistakable sounds of the Fab Four. The Tuesday evening performance begins at 7:00p.m. Gates open at 6:00. Tickets are available at the amphitheater box office for $5 or season passes are available for $25 at Clio City Hall. A concession stand features food and non-alcoholic drinks for sale and parking is free. For more information, call the City of Clio office at (810) 686-5850, visit www.clio.govoffice.com or find the Clio Amphitheater on Facebook.
SHOUT! return to Monroe for one of our largest shows of the year. The Lads take the outdoor stage on the River Raisin at 7pm for the free concert. The amphitheater is located in St. Mary's Park just west of the corner of N. Monroe St. and W. Elm Ave in downtown Monroe, MI. Bring a blanket or lawn chair and get there early for a good seat!
The unmistakable sounds of Beatles music will be streaming from the scenic Bay View Park Band Shell when SHOUT! bring their renowned tribute act to Alpena, MI this summer! Part of True North Radio Network's Summer Concert Series, this free outdoor concert will be held Saturday, July 29 from 6-9 pm. Bring your lawn chairs or a blanket to sit and enjoy the great music. There will be plenty of give-a-ways and fun for the entire family, including concessions. Don't forget to tell your friends and family to come and join you there!
For more information, visit www.truenorthradionetwork.com or the True North Radio Network Facebook page.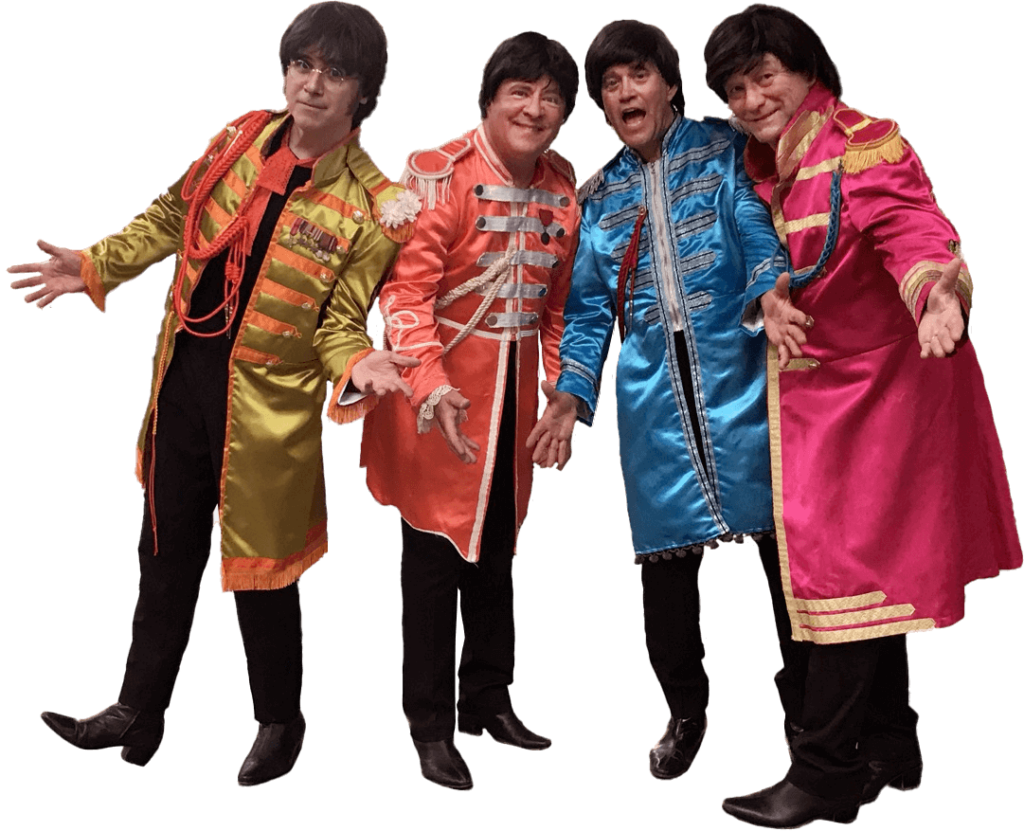 We've been perfecting our genuine Beatles tribute band performance for over 25 years. From the far out costumes to the period correct equipment, it's the perfect invitation to come hang loose with family, friends, and some real groovy tunes. Check out our upcoming events on Facebook so you don't miss out on our next show!
Watch some of Shout's Past Events